PRODUCT
INTRODUCTION
PART 01
Environmentally-friendly drum continuous carbonation machine uses the carbonized flue gas purification into combustible gas generated in combustion itself. it can continuous product 24 hours. It has an advantages of zero pollution, zero emission, save labor, high capacity, energy-saving consumption, the high degree of automation and advanced technology. Which is suitable for large-scale production, with high carbonation rate, high carbon production rate, energy saving, environmental protection, high efficiency advantages.
This machine is suitable for all kinds of agricultural and forestry biomass charring making. For example, wood shavings, sawdust, wood chip, rice husk, cotton stalk, Bean stalk, bamboo,biomass waste,etc.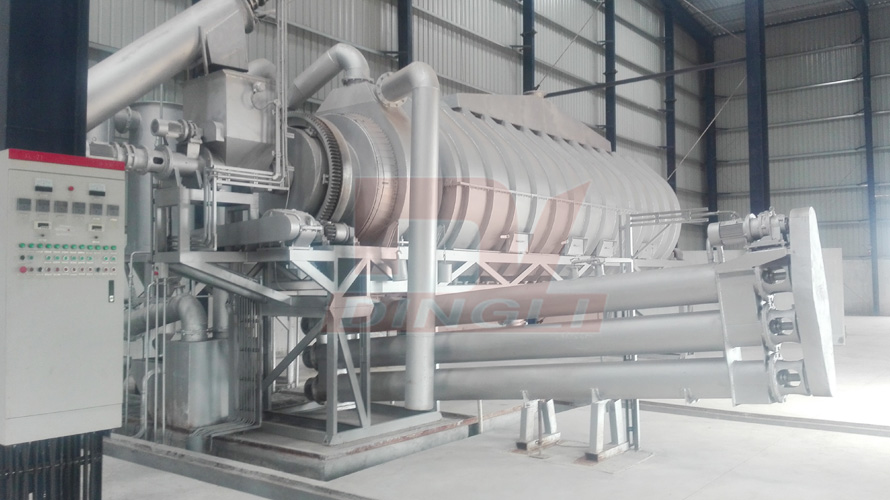 WORKING
PRINCIPLE
PART 02
Biomass two-layer continuous drum carbonization machine is a professional equipment for continuous high-temperature heating and carbonization of biomass under the condition of no oxygen and poor oxygen. It is composed of two-layer carbonization machine, preheat wood powder burner (or gasifier, natural gas burner), combustible gas purification device, external heating furnace of carbonization machine, feeding conveyor, cooling and carbon discharging machine and control, etc In this paper. The biomass is transported into the inner drum by the conveyor. The waste heat in the furnace is used to dry and preheat the materials to 200-250 ℃. The outer drum is provided with a combustible gas recovery pipeline at the end. The combustible gases such as carbon monoxide, methane and ethane produced in the carbonization process are fully utilized to separate wood tar, wood acid solution, water and ash through the flue gas purification system The pure combustible gas is sent to the heating furnace outside the carbonization machine for full combustion and heating to the carbonization machine to achieve reciprocating cycle heating and continuous production. The carbonization temperature is generally controlled at / 700-800 ℃. The carbonized products are discharged from the carbonization machine through water cooling, and the carbonization ignition is supplied by the pre heating wood powder burner (or gasifier or natural gas burner).