PRODUCT
INTRODUCTION
PART 01
To the wooden molded industrial pallet, the raw materials can be wood chips, straw, etc., which is the overall structure, panel, and 9 support feet once mold shaped. The upper surface of the pallet plate is smooth, can meet the transport of various goods, the under surface uses stiffener. Plate longitudinal and horizontal force is a balance, nine-foot distribution to meet the forklift four-way insert. It is a four-way fork in, single-sided pallet.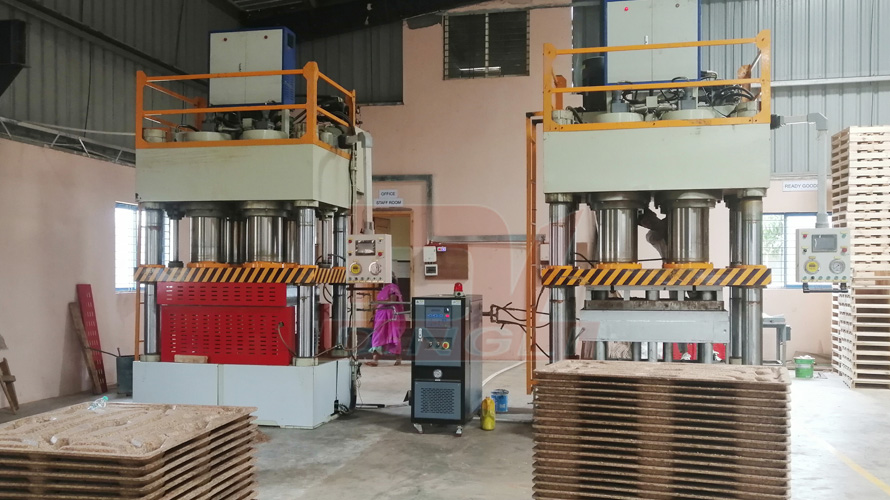 WORKING
PRINCIPLE
PART 02
The crushed wood chips or straw were dried at 300-450 ºC for 3 min, the heat treatment time was 30min, the water in the material was removed, then mixed with the thermosetting resin, and molded at 220 ºC. The pressure was 1400psi or 98kg / cm3. In this process, the internal temperature of the pallet reaches 105 ° C and the internal temperature of the pallet is maintained above 56 ° C for more than 30 minutes and the final moisture content of the product is not more than 9%.
The entire production process is carried out at high temperatures and pressures, killing any insects and microorganisms that remain in the material, and at the same time preventing the re-intrusion and propagation of any other insects due to the high density of the wood pallets produced. This kind of molded product is the latest "artificial wood packaging material" rather than the traditional "solid wood packaging materials", its products no longer need to pest control, the product does not have any live insects and microorganisms, in line with ISPM15 (International Standard for Phytosanitary Measures 15 ) requirements for Wood Packaging Products.